Welcome to the Fouraker Reunion Website!
Descendants of Ichabod Fouraker & Nancy Daugherty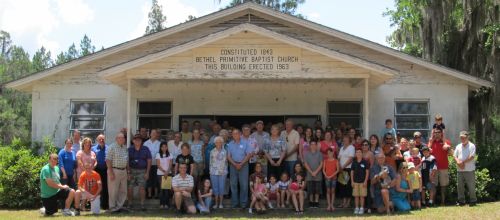 HIGH-RESOLUTION IMAGE
Since 1955, our family has been coming together annually to celebrate our history and learn more about our lineage. Please join us each year on the 1st Saturday in May at the Bethel Primitive Baptist Church, just a few miles west of the town of Fargo, GA.

No need to dress up, just come as you are and we'll treat you like family!

The meetings typically work like this: We meet for an hour or so inside the church then we say Grace & the feast begins - and make no mistake, this is some of the best cooking you will ever taste!

After dinner, some folks sit around talking & learning about their ancestors, while others stroll through the cemetery to explore the wealth of historical information preserved in the granite headstones.

We hope you'll enjoy browsing our website, and feel free to contact us with any questions or comments you may have. We look forward to hearing from you! Also, please take a second to sign our guestbook if you haven't already. Thinking about visiting the reunion for the first time? Click here!
Family Recipes & Good Ol' Country Cookin'
The Fouraker Reunion features some of the finest cooking south of the Mason-Dixon line!
Directions & Interactive Map
From the town of Fargo, Georgia, at the intersection of US Hwy 441 & GA Hwy 94:
1. Go west 3.5 miles on GA Hwy 94
2. Turn left (south) onto CR35, which is Woodpecker Road
3. Bethel Primitive Baptist Church is 5 miles down CR35 on the left
The map below is interactive, and can be clicked, dragged, zoomed and otherwise manipulated, or CLICK HERE to see a larger map and get driving directions from your address or location using Google Maps.